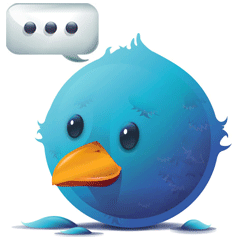 There are all kinds of strategies for how to use Twitter for business depending on your industry or goals. Here are a few simple tips to keep in mind as you're getting started with your profile and growth strategies on the social network.
Humanize
Fill out your profile
There is a lot of activity on Twitter, but unfortunately there are a lot of anonymous spammers lurking on Twitter as well. Be sure to fill out your bio with company details and interact often to show that you're not just churning out content; you're actually a real entity.
Put a face with the name
It can be hard to show the human side of a brand on social media. With all the necessary company logos and bio details, it can be difficult to show that there is a real person behind the company profile. One way to humanize the brand is to include a Twitter handle of the employee who sends the tweets in the bio section. Adding something like "Tweets by @TwitterHandleGoesHere" will tie a real person to the account and help your followers see who is speaking to them. If you have multiple people who update the profile, you could link two or three handles (depending on how much space you have in your bio) or you could change it every month. Just be sure that whoever you link knows to keep their own personal profile clean and appropriate to avoid any issues.
Appearance
Add a background image
A custom background design can give your profile a nice professional look and feel. A background image with your contact information and URLs is a great way to showcase your online presence and encourage cross-channel interaction.
Add a profile photo
It's important to use a good quality profile picture in your Twitter profile. People won't take you seriously if you stick with the default "white egg" image, so it's best to use an image that stays consistent with your brand, such as your logo or a variation of it. Also, once you pick your profile photo, try not to change it too often in order to avoid confusion with your followers.
Connect
Find your audience
Once your profile is created, it's a good idea to start following other users. Look for Twitter users who post similar content and follow them to build up your audience. Blogs, websites, professional speakers and industry experts can be a great resource for quality content. Be sure to retweet interesting material from your followers and always give credit by including their handle and either an "RT" or "Via" to show them as the source.
Use Twitter lists
Twitter lists are another way to find specific content and segment your followers into topic streams. Lists allow you to monitor the activity of specific users based on criteria that you define. Do you have a bunch of followers in the Email Marketing industry? Put them in a list and you'll be able to isolate their tweets to make it easier to interact. Maybe you only want to see the tweets from your followers that post about Sports? You can create a list for that. You can also follow public lists created by other users.
Using these simple tips should help you get started with building your Twitter strategy. What are some suggestions you would have for businesses looking to get started on Twitter?