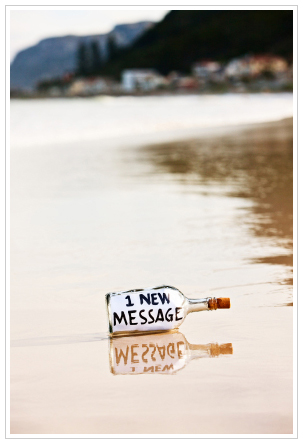 Don't let your carefully crafted email marketing campaign end up in the spam folder. Our close partnerships with ISPs and email associations will minimize spam bounces and maximize delivery.
Is Email Delivery a Problem for You?
We stay ahead of ever-evolving authentications, regulations, compliance checks and confirmations, as well as CAN-SPAM rules, so your emails get delivered. Real-time monitoring, in-app reporting, and email deliverability reviews give you visibility into inbox performance. Our email marketing experts monitor delivery metrics, identify issues, engage with ISPs on your behalf, and provide recommendations for improved email deliverability. They manage authentication, inbound messages, and list hygiene, while continuously tracking:
Complaint Rates
Spamtrap Hits at Microsoft Domains
Hard and Soft Bounce Rates
Invalid and Open Rates
Domain Delivery Reports
Blacklists and Block Lists
► Reduce False Positives with our Deliverability Enhancement Platform
Paramount fights false positives with a "one-two" punch. One, the eMS technology contains built-in tools to help you achieve consistently high delivery rates. And two, only our technology offers the SureSend email deliverability enhancement suite to help you learn the truth about your delivery rate, establish tangible benchmarks, resolve sending issues, and achieve your email marketing goals.
► Early Warning Systems
Stop potential problems before they occur with:
Double opt-in security and affirmative consent tracking.
Domain delivery reports you can generate on demand within the eMS application.
A one-click SPAM rating tool that analyzes message content and formatting, then flags potential problems to fix before sending an email.
A "Report SPAM" link in every email to let recipients report suspected abuse directly, without notifying a third party.
Investigations into the email and data collection history of your potential partners.
► SPAM Reporting
Paramount gathers the delivery information you need to know. We can:
Review SPAM message boards and Consumer Group Postings to spot problems early.
Investigate SPAM reports to determine source, accuracy, and resolution.
Report on spam filters, blacklists, and corporate IT blocks affecting your firm.
Offer SPAM reports to provide comparative graphs–how does your company compare?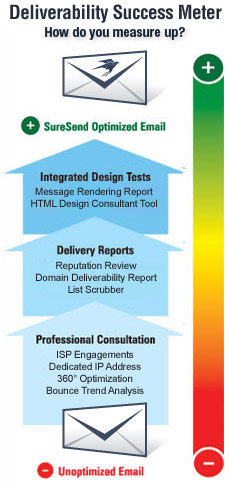 SureSend: The Email Deliverability Enhancement Suite
Paramount's SureSend email deliverability enhancement suite combines high-tech integrated tools and high-touch expert consulting services to help you:
Learn the truth about your delivery rate.
Establish tangible benchmarks.
Resolve sending issues.
Achieve your email marketing goals.
SureSend. Send with confidence.
To request SureSend delivery management pricing, please send an email to inforequest@Paramountcommunication.com today. For information about Paramount's eMarketing Suite email marketing technology, click here.
► SureSegments: Advanced Segmentation Tools
SureSegments™ is Paramount's advanced segmentation database. Using your commerce transaction and customer behavior data, SureSegments provides easy to use tools to predict, understand, and identify who your most profitable customers are and reach them at key points in the sales lifecycle when they are most likely to purchase.
Use SureSegments to identify customer segments based on these criteria and many more:
Customer Lifetime Value
Purchase Frequency
Purchase Recency
Subscription/Upgrade Expiration Date
Cart Abandonment
Cross-sell Recommendations
► SureSegments in Action:
Let's say you sell ink and toner supplies to printer users in the United States. You want to use web behavioral data to automatically identify and remarket to customers who have shown interest in a particular printer or have abandoned a product in a shopping cart. You also want to increase overall customer lifetime value and target a campaign to your best customers this year. Using SureSegments, you can:
Create a cart abandoner's recapture program that automatically deploys daily to:
Any subscribers who have abandoned a shopping cart with supplies totaling more than $25 exactly three days ago.
Send a brand/product affinity offer to customers who have:
Purchased more than $10 of product from the site in the last six months; OR
Visited a list of product pages in the last six months.
Initiate a loyalty promotion at the beginning of the year to high value customers who have:
Purchased more than $500 in product with the company in the last year; AND
Purchased more than three times in the last year.