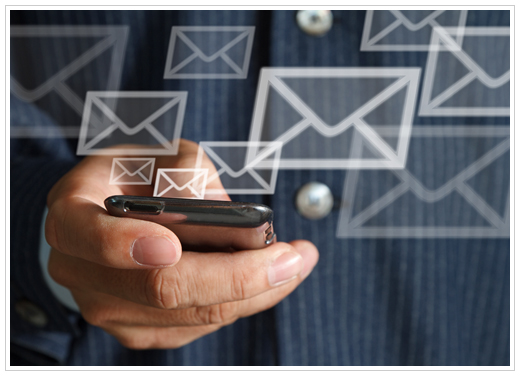 Whether your business is large or small, looking to implement basic email marketing programs or develop more sophisticated lifecycle messaging campaigns, Paramount can help. Our unique combination of enterprise-scale email marketing solutions and award-winning services will ensure your email marketing program is a success.
Drive Email Marketing ROI
In 2015, 47 billion emails were sent all around the world, with an average of 4 billion emails sent each month. With such heavy traffic, email marketing can be a powerful tool, but only if you use it correctly and stand out from the crowd.
Paramount extends your email marketing team's expertise with our intuitive, all-inclusive email-marketing software platform and services. With Paramount, you can quickly and efficiently implement sophisticated, data-driven lifecycle messaging programs for rapid return on investment.
Reach Your Full Email Potential with Paramount
More than 2,200 clients use our flexible cloud-based platform to maximize email marketing performance and reach their greatest potential. Our dedicated account team collaborates with you to ensure rapid onboarding with in-depth assessment and recommendations for lifecycle messaging optimization. Ongoing education and guidance is always available as you grow and expand the reach of your email marketing program.
Paramount specializes in helping online retailers create highly targeted email programs that engage customers as their wants, needs, and motivations develop over time. We also enjoy a sterling reputation with ISPs and SPAM-fighting organizations. This translates into unparalleled email deliverability for our clients. We have worked hard to establish and uphold our reputation as the email service provider who provides "the knowledge behind the technology" to busy online retailers.
Increase customer value and drive revenue and ROI with cutting-edge, data-driven lifecycle messaging campaigns, regardless of the size of your business and marketing team.
Empower even the smallest marketing staff to launch sophisticated, large-scale email marketing campaigns with our easy-to-use interface and advanced automation software.
Deliver relevant content and a responsive, personalized experience on any device across multiple channels—email, mobile and social. We make it easy.
Instantly access the latest software platform features and email marketing innovations with our multi-tenant SaaS platform.
Extend your reach around the world. With five global data centers, and offices and localization services in the UK, Germany, Japan and Taiwan, we can support your business worldwide.
Our Email Marketing Solution includes:
Advanced Data & Segmentation Management
Creating highly targeted messages with Paramount is as easy as "drag and drop." Our email marketing tools will help you create advanced split-test scenarios, identify and track your most loyal subscribers, and use behavioral data to deliver relevant personalized email messaging. Software tools include:
Active Clicker Segments
Social Response Targeting
Mobile Response Targeting
Progressive Profiling
Static and Dynamic Segments
Dynamic Asset Management
Streamline email asset management with flexible tools from Paramount. Our email marketing solutions range from simple reusable dynamic content blocks to scripting for advanced conditional logic.
Email Campaign Automation
Manage all of your email marketing programs—promotional, triggered and transactional—in one integrated software platform. Our campaign calendar, templates and wizards make it easy to create, implement and optimize your entire lifecycle messaging program from welcome to win-back.
Omnichannel
Expand your email acquisition strategies to include email signups from social and mobile. Give your customers opportunities to join your email programs wherever they are, SocialLoop, Text-to-Join, web forms and more.
Integrations
Paramount offers pre-built, turnkey integrations for CRM, ecommerce, personalization and remarketing that require little to no IT resources to implement. Need some customization? You can easily integrate Paramount email marketing solutions with your current systems and data sources via our open source XML APIs.
Email Deliverability Management
Make sure your emails get to the inbox. Paramount offers in-app software tools that you can use on your own and a dedicated Deliverability Management Services team. Our experts monitor delivery metrics, identify issues, engage with ISPs on your behalf, and provide recommendations for improved deliverability. They manage email authentication, inbound messages, and list hygiene, while continuously tracking:
Complaint Rates
Spamtrap Hits at Microsoft Domains
Hard and Soft Bounce Rates
Invalid and Open Rates
Domain Delivery Reports
Blacklists and Block Lists
Email Testing and Optimization
Identify the most effective content easily and efficiently with Paramount's email tools for A|B Split Tests, multivariate testing, and message rendering by ISP, browser and device.
Reporting and Analytics
Optimize email marketing program performance and demonstrate success with reporting tools and detailed analytics. Paramount uses Message Asset Tagging to enable reporting and analytics on every deployed asset, including content, promotional offers and creative. Determine what drives engagement and what's getting ignored. The email platform also includes:
Operational Reports
Advanced Analytics and Data Visualizations
User-Configurable Dashboards
Domain Inbox Reports
Custom Reporting
Lifecycle Messaging
Lifecycle email programs match the best marketing messages to the relationship lifecycle customers have with your brand. Because the lifecycle messaging campaign changes for each email recipient based on their level of engagement, purchases, and behavior over time, it's the clearest path to every email marketer's nirvana — relevance.
Paramount specializes in making it easy for online retailers to create multi-stage email campaigns that begin with customer acquisition and evolve through the customer lifecycle to encourage conversion, drive greater purchase frequency, and increase lifetime value. Ease and automation means our lifecycle messaging features are used more often by more marketers.
Paramount's Position on Spam
Fighting spam by maintaining pristine sending practices and upholding our strong advocacy of double-opt in processes has been a cornerstone of the Paramount business model since our inception, and this focus has never flagged for us.
As the rise in spam and inbox deliverability issues create greater obstacles for permission email marketers, top brands continue to seek out Paramount. We were the first company to partner with independent delivery auditing firm Pivotal Veracity, and thanks to our hard-earned sending reputation, we've earned valuable "capital" with the folks at ISPs who decide whether your permission-based email makes it to its intended destination.
The Paramount Deliverability Management Services (DMS) Team represents and advocates on behalf of Paramount clients in a variety of anti-spam and online privacy organizations, including the Messaging and Anti-Abuse Working Group (MAAWG), the International Association of Privacy Professionals (IAPP), the Anti-Phishing Working Group (APWG), TrustE, the Email Experience Council, the Federal Trade Commission, and the Direct Marketer's Association (DMA).